2019 was a successful year for Oyster with the release of their iconic new 565 sailing yacht. Described as a "yacht for all oceans", this 56' blue water vessel has been created for the purpose of adventure, able to circumnavigate the world in style and comfort. We spoke to Paul Adamson, Oyster's Chief Commercial Officer, at boot Düsseldorf to see why he thinks this model has been such a success.
"Her success is deserved, she's an exceptional sailing boat. Older Oysters' had a heavy displacement, whereas the new model range (565, 595, 675, 745 and 885), are entirely different. The boats are lighter but just as strong and safe. We've got twin rudders on them and they perform better."
"This translates into an easy and rewarding boat to sail. Any sailor, whether you cruise or race, could hop onto the 565 and really enjoy sailing it. We're finding that those that sail her end up falling in love with her."
The specifications
Oyster have combined design excellence and engineering expertise with craftsmanship to construct an award worthy sailboat that is not only impressive, but also easily sailed and maintained.
They've ensured that the sub-60' 565 is fitted with easy-powered sail and yacht-manoeuvring systems, meaning that the sailboat is ideal for couples or young families looking to hit the open seas together. However, ease of use doesn't mean a compromise on performance: this 6th gen design includes Oyster's most efficient hull shape to date, designed with powerful lines to ensure an enhanced ability. 
"All the learning that we've gathered over the years, from the hundreds of thousands of miles sailed, we have integrated into
the Oyster 565
. This is in terms of how systems are implemented and installed on board, as well as the design. All the superyacht features that we've learned from building the big boats, we've actually stepped down into this yacht as well. We've nicknamed her the pocket superyacht because effectively that is what she is."
"When you look at her decks, you will see they're completely flushed, it's a really sleek and stylish looking deck, with a hydraulic swim platform at the back. All the way through to how the engineering is installed, the boat is quiet, so when she's motoring, you can't hear the main engine. It's all of these features that we put into creating this boat, and that's why she's been so well received."
All of the structural decisions within their yacht ranges are recognised by Lloyd's register, for the best quality assurance, with the hull and deck being comprehensively surveyed throughout the moulding process.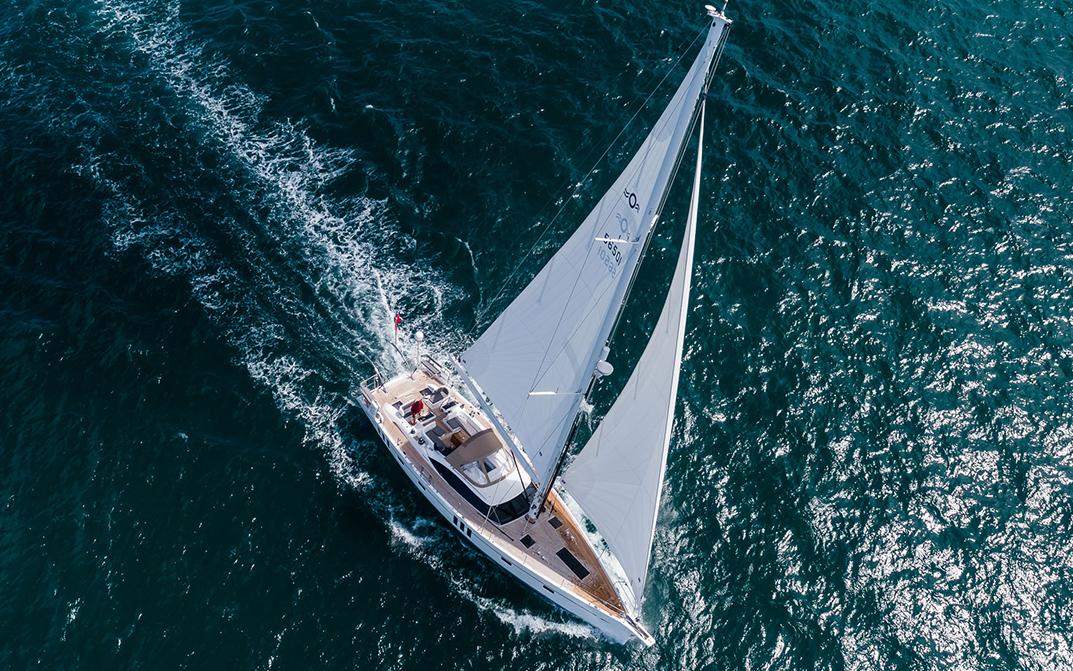 "The elegant, efficient lines of the Oyster 565 are just as happy cutting through Solent chop as surfing down ocean rollers"
The 565 offers a number of layout options as well as hull, deck and keel configurations to ensure that the yacht works perfectly for you. Each Oyster is unique and built specifically to its owner's tastes and specifications. These personalisations include a centreboard for shallow water sailing, elongated transom for extra deck/storage and sizable hydraulic swim platforms. Everything from the joinery and upholstery, to the deck layout can be specified by the customer. 
"What we create is semi-custom yachts. The hull and deck design is pretty much set, but we also offer a number of layouts - so with the smaller yachts, there's 2 layouts you can have. If you want to significantly change it, we can look at it but it just starts to get expensive when you begin  redesigning the internals of the yacht."  
"Once you step up to the bigger boats, like 745 and 885, there's much more customization but generally we know what works and what Oyster owners love." 
"What we generally find is that many people will either go for recommended design or they will tweak it. And then, the customer becomes part of that design journey too and they help us evolve the yachts effectively". 
Main features include:
Hydraulically operated furling mainsail and jib.
Fantastic ventilation courtesy of powered extraction systems, dorade and large opening forward saloon windows.
A redesigned plumb bow to make certain that the full waterline length is being optimised for speed as well as interior space.
Twin rudders give better control to the skipper and enhance performance
The spacious leisure cockpit provides a generous liveaboard deck space, while still ensuring that helm positions are well protected and equipped with deep footwells and solid GRP backrests.
Enlarged sea and skyscape windows flood the interior with sunlight as well as offering the passengers unbeatable sea views.
Environmental aspects
With conversations across the world turning to green agendas and environmental concerns, it's growing ever more important for businesses to have procedures in place to reduce their impact. We were keen to ask Paul, what Oyster have done to ensure that the 565 will have a lesser environmental impact:
"If you look at it, out of every 20 yachts that are built, 1 of them is sailing yacht, 19 are motorboats. Therefore we believe that it's becoming less and less cool to turn up in an anchorage with big twin diesels pumping out smoke. A sailing yacht, by its very nature, is hybrid, so if you want to decrease your carbon footprint whilst you're operating on the water, you sail more and motor less." 
"What we're doing is really listening to the market. We're looking at different systems on board to minimize fuel burn. Lots of it has been around for years, but in the very early stages. However, with the Oyster 565, just behind the keel, she has a hydro-generator that will give 400 amps a day. That's enough power when she is sailing over 4 knots to run the entire yacht. Therefore that boat can sail across the Atlantic without starting it's generator. The hydro-generator will run the autopilot, refrigeration, lighting and instrumentation!"
Structurally, there is also lots to consider: "In lighter airs, the yachts must perform better, so therefore it's lightening them up, make it a bit quicker, twin rudders on the back, slightly larger sail. 
"When we were down for sail trials for European Yacht of the Year, we put a Code Zero on her. What's amazing is that in 5 or 6 knots true with a Code Zero she sailed at 7 to 8 knots!"
"You generally don't need to switch your engine on. Full fuel in the 565 can keep you going for 6 months."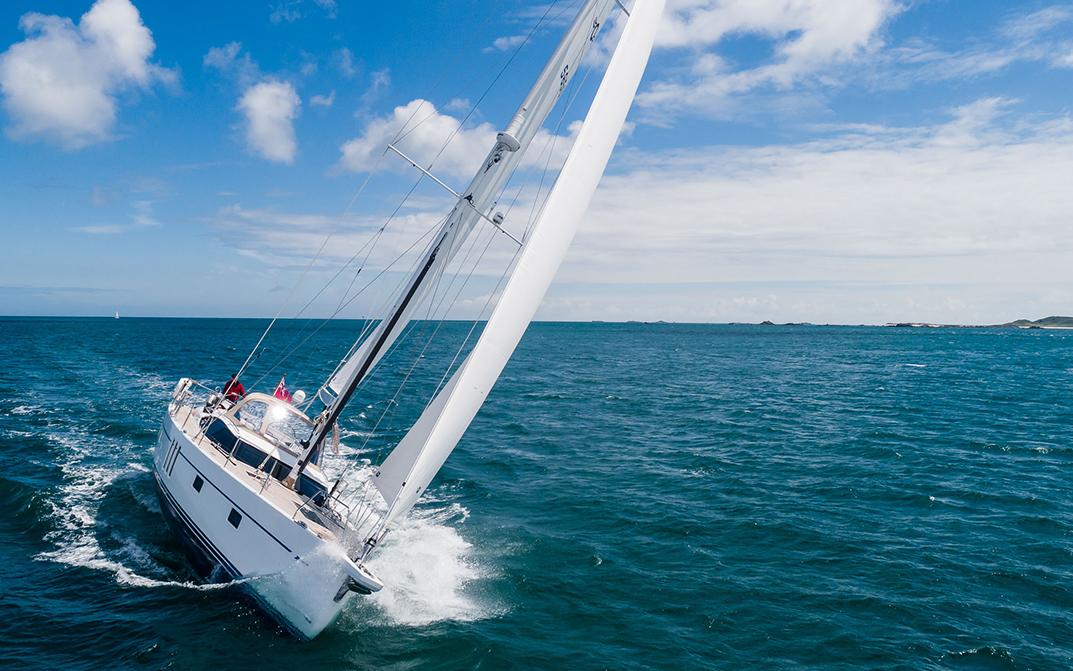 Oyster craftsmanship
Oyster's craftsmanship has been the centre of their brand since 1973. They ensure every stage of the design and build process is focussed on excellence, through use of high quality materials, experts in their craft and precise project management. We asked Paul more about the design process:
"The first step is really understanding the concept, we then go out into the marketplace and look at all the other competitors, in terms of what they're doing in that size. That process can take one to two to three months."
"Once we get the concept, we speak to our designer Rob Humphreys.  He will do some preliminary designs which are then presented back to us." Once they have the drawings in front of them the Oyster team enhance to ensure each model carries the Oyster DNA."
"The whole process from concept to design sign off is about 6 months. Then we start to create the moulds and build, while structural design runs alongside at the same time. From start to finish, it takes about a year and a half to two years before you'll physically see the yacht on the water."
With Oysters however, that 2 years is definitely worth the wait. Despite going through difficulty over recent years, they have really turned it around. The 565 is the first model to be released under new ownership and being such an instant success, it sets the standard  for exciting new additions to the fleet in years to come.