In this article I am reviewing a product that has been developed and thoroughly tested over several years. The early versions were brilliant, and a new version has made them even neater with even better performance. This latest incarnation of the Automatic Fender System had its European launch at the prestigious Cannes Yachting Festival in September 2019 and was shown in full operation on the demonstration rig.
This promises to revolutionise the way we all take the handling of fenders for granted. Frankly, we think that this product is superb.
WHAT'S THE PROBLEM?
Of course, we all know that berthing your boat can at times be challenging. That's why we have fenders – to help minimise the inevitable bumps and scrapes. (Of course, it is always the other person's fault, or an unexpected gust of wind or ....)
However, dealing with traditional fenders is a challenge in itself. This innovative Automatic Fender System completely solves these problems.
Unfortunately, fenders do create some issues for all boaters -  they are bulky to store; a nuisance to deploy; not all crew like going onto the bow to deploy them - especially in choppy waters  while the skipper is shouting at you! 
In fact, it's much worse if you are single-handed – you may actually have to leave the helm to deploy them. It is (in our opinion) plain dangerous / unwise to leave the helm in order to deploy, or lift, fenders while you are approaching or leaving a berth.
There is also the question of how many you need. Anchoring.com makes the following recommendation for fenders on each side:
"There is a rule of thumb for fender number: Use one fender per 10' of waterline, with a minimum of three fenders. So, a 20' boat would need three fenders and a 40' would need four. At least one fender must be placed at maximum beam, with others distributed fore and aft. When rafting, more fenders are a good idea, three at maximum beam and two – round fenders are best – set fore and aft. Again, more fenders are better than fewer, so I'd advise against meeting only minimum requirements."
Then after leaving the berth, you have to bring them back on board, and find somewhere to store them – usually taking up valuable and scarce storage space. Let's refer again to anchoring.com. They say: 
"Have a stowage strategy that allows for easy accessibly, yet keeps fenders from getting underfoot."
Sadly (like so many things in boating) this is easier said than done! One a small boat, there simply may not be the stowage space. On a superyacht, you may have to have so many fenders that they take up an inconvenient amount of space. The smaller boat may have to dragoon possibly reluctant crew onto the bow to deploy them. On a larger superyacht, you may need to employ (at some cost) several deckhands just to manage fenders.
Yes, fenders are necessary, but can be a nuisance and a hassle. All this is crazy when there is a simple solution that easily and simply manages the deploying, lifting and stowage of fenders. This is where the Automatic Fender System comes into play.
THE SOLUTION
When you are approaching your berth, the Automatic Fender System will deploy (i.e. drop) the fenders at the drop of a button on the supplied app. Literally all you do is press the button.
When you have left your berth, you simply press another button, and the fenders are automatically lifted into their correct position.
Stowage? Again, simply no problem. They are automatically, neatly and securely stored in the most obvious and convenient place, between the railings on the boat, out of the way of the side decks, and not taking up any stowage space on board.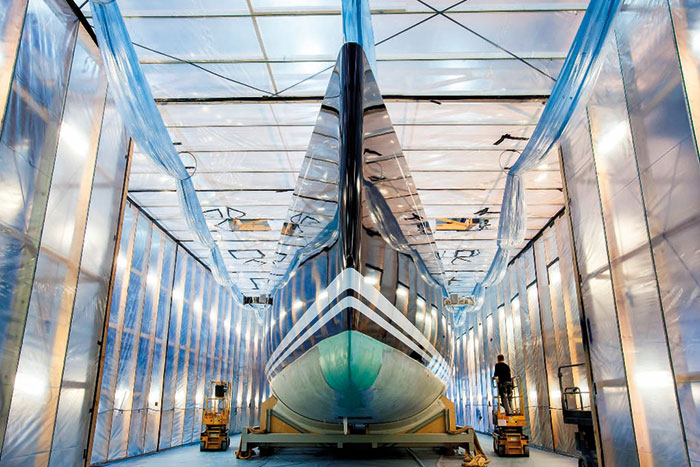 INSTALLATION
Fitting should take about 20 minutes per fender. All you have to do is to screw the three clamps per fender to the railings. 
Tools needed? One Philips Screwdriver (we suggest with a PH4 bit). That's it!
The system even comes with different sized clamps to fit different diameters of railing.
It is as simple at screwing the three clamps onto the rails that hold it firmly in place. They are so neat that they are hardly visible once installed. 
They look neat and tidy – on everything from a small sports cruiser, to a sailing yacht to a superyacht.
You may ask – is it really that simple? Yes, it is. The reason is straightforward – no complex wiring (or wiring of any sort whatsoever) is required.
There is no signal wiring required, as the units are controlled by Bluetooth from your mobile or tablet. 
Also, there is no power wiring required as the power is provided by the included solar cellc and the lithium battery in the waterproof housing. 
In other words, no wiring at all required – this really is an easy DIY job – no need for a marine engineer!
We have even tested the system INSIDE a garage, in poor (i.e. British) weather, to see its performance when there is very little sunlight getting through to charge the in-built batteries. No problem at all. It consistently operated through hundreds of cycles with no issues.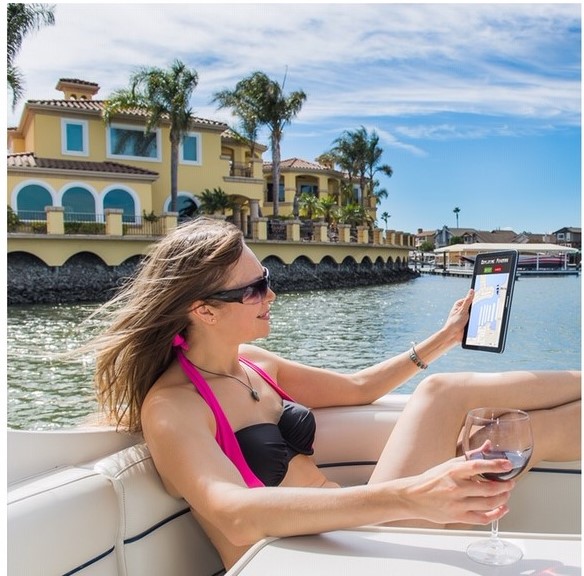 THE APP – OPERATING INSTRUCTIONS
The app that controls the system is simplicity itself. Press one button to deploy the fenders; and another to raise them. 
Not much more to say, really. It is that simple.
WHAT DO YOU GET?
The system itself is highly sophisticated. Each automatic fender is a comprehensive integrated system which consists of :
Two solar cells (one on top, one on the side) that capture the sun no what its position is or how cloudy
Internal batteries that hold charge for months even when not being exposed to sunlight
Powerful internal motor
Bluetooth electronics so that no wires are needed to control it
Electronics to control its operation
Fully waterproof casing
A set of clips and stainless bolts and nuts in different sizes to fit different diameter railings
Full printed, colour, instruction manual.
A NO-BRAINER?
Although many people might regard an Automatic Fender System as unusual, because they have always done it the usual old-fashioned and, frankly, clumsy way, we believe that over time the Automatic Fender System will become an obvious and automatic addition to many boats. They will become as important as, say, an anchor winch or a dinghy. 
Whilst to fully equip a boat with automatic fenders is not cheap, they will be used every single time you berth – unlike, say, an anchor winch or dinghy which you may typically use once in a blue moon. This leads to the cost per use of the Automatic Fender System being very reasonable indeed.
Once fitted, we believe that you will be delighted and wonder how you ever managed without them.
And, yes, we do use them on our boat.
Martin Berman
Martin Berman is a Director of Go Earth Ltd, and on the Editorial Board of Boat Trader. He holds a variety of boating and other qualifications. Go Earth is the (non-US) international distributor for the Automatic Fender System.  For more information email martin.berman@boatsearch.earth or visit 

https://www.boatsearch.earth/automatic-fenders/
Go Earth also has a services division which assists clients in all elements of procuring boats.
This is one in a series of articles that Martin is writing for Boat Trader, and which he consistently submits 3 seconds before the deadline.