A new range of expedition yachts - from 65 to 100 metres – are being built by Dutch yard Damen. The Damen SeaXplorer range aims to combine luxury with commercial ship capabilities, with details revealed at a press conference during the Monaco Yacht Show (September 2015).
Three different designs were shown, with Damen (parent company of the superyacht builder AMEL) explaining how the super-strengthened luxury vessels would enable life-changing trips to the remotest and coldest corners of the planet.
The Damen SeaXplorer team are working in partnership with EYOS Expeditions, a company that specializes in organised superyacht trips to far flung ice destinations. The objective is to develop a range that will have an exceptional expedition performance to ease the passage for high end holidays to Antarctica, and Arctic sites including Canada, Greenland and Russia. This really takes superyacht expedition trips beyond the realms of the typical superyacht circuit of the Seychelles, 
Mediterranean, Caribbean
. 
Built for 'off road' experiences
Azure Yacht Design has been responsible for creating the "off road" appearance of the the SeaXplorer yachts. One standout design feature is Damen's patented Sea Axe hull, which has been strengthened to enable the explorer yacht to slice through ice. This will guarantee safety and comfort for passengers.
Managing director of Amels, Rob Luijendijk, said that the SeaXplorer range had been created because of a gap in the market. From talking to yachting clients, "it became clear that that there were simply no globally capable luxury explorer yachts out there," said Luijendijk.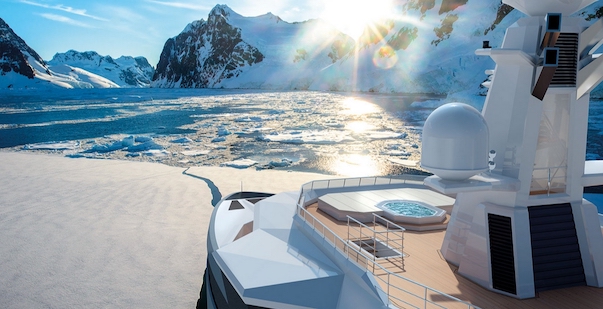 The Damen SeaXplorer range will offer a home-from-home for wealthy guests -
 designed to give guests a new sense of freedom, said Luijendijk. With ample living space and amenities, each yacht will be capable of spending 40 days in between port calls. The stunning new Damen explorer yachts will also be able to carry up to two helicopters, and will boast a selection of tenders, and submersibles - the very latest in 'leisure submarines'.
Images: Damen SeaXplorer
Feeling inspired? we have a huge range of luxury superyachts, just waiting to be browsed. Click the link to see our latest superyachts for sale. 
Article: Alison Clements