One of the largest and most famous wooden warships ever built, HMS Victory became the stuff of legend at the 1805 Battle of Trafalgar when Nelson was killed onboard. Today HMS Victory is the world's oldest naval ship still in commission, and since 1922 she has graced a dry dock in Portsmouth Historic Dockyard - a hugely popular visitor attraction. Roy Godley looks back over her long, eventful history.
In July 1759 work commenced on one of the most famous ships in history with the keel being laid to HMS Victory. After the Seven Year's War had gained Britain vast land victories in 1760 it is thought that the name was chosen to commemorate these events.
Work on the ship didn't continue until three years later. The usual practice was to build the frame and then cover the ship for a few months to allow the wood to season. However due the Seven Year's War still raging, work was delayed until the Autumn of 1763. She was launched on 7 May 1765 at a cost of just over £63,000, the equivalent of over £7 million in today's money. Approximately 6,000 trees were used to make the Victory; and there were 26 miles of rigging and 104 cannons onboard.
Armed with 104 guns she would have been an impressive sight but didn't get to show off her full glory until 1778. During the intervening time she was placed in reserve, roofed over, dismasted and moored in the River Medway under general maintenance. This was purely because there was no urgent use for her until France joined the American War of Independence. Admiral the Honourable Augustus Keppel decreed it was his flag to be raised in her and appointed Rear Admiral John Campbell as 1st Captain.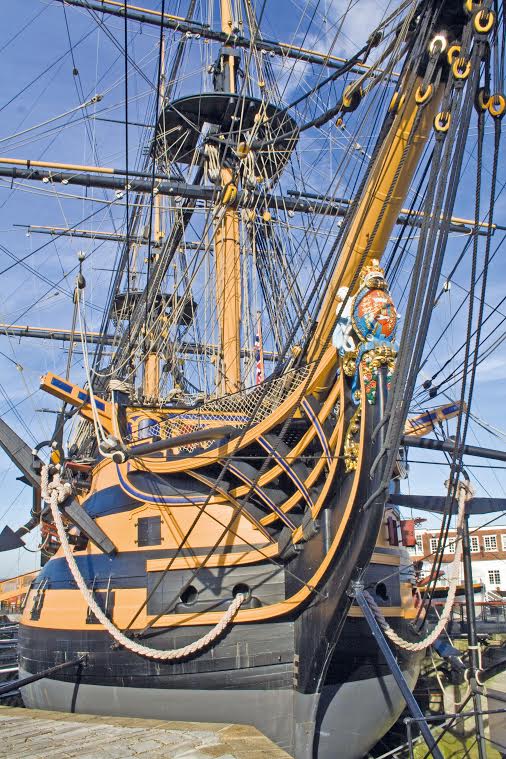 Lying at the South-Western end of the English Channel is the Island of Ushant. 100 miles west sailed a French fleet sighted by Keppel on the 23 July 1778. Here the first battle of Ushant ensued with Britain suffering little loss. But the rear division led by Sir Hugh Pallister suffered terrible damage and Keppel's signal to follow the French was not conformed. Both were court martialled with Keppel later being cleared.
With the hull of the Victory being enhanced with almost 4,000 sheets of copper below the waterline, mainly to protect against ship worm, she was now captained by Captain Henry Cromwell serving under the flag of Rear Admiral Richard Kempenfelt. Sighting the French fleet on 2 December 1781 the 2nd battle of Ushant began. Fifteen French sails were captured and the rest of the fleet dispersed in a gale before returning home.
1782 saw the Victory as the flagship to an escort flotilla resupplying Gibraltar and sailing under Admiral Richard Howe. No resistance was encountered from the French and Spanish apart from a small engagement when leaving, Victory didn't fire a shot and all ships returned home safe and sound.
In 1796 the Victory sailed under Admiral Sir John Jervis's flag and was stationed off Cape St Vincent in an attempt to block the North from being reached by the Spanish to team with their French and Dutch allies. Once the evacuation of Elba had been accomplished by Horatio Nelson and he had set sail for Gibraltar aboard HMS Minerve, plans changed and he and Jervis agreed to rendezvous on 11 February 1797. Two days later five Spanish battleships were spotted to the South-East.
Catching them by surprise the Victory stopped the Spanish division. Nelson, now transferred to HMS Captain, attacked the fleet and succeeded in stopping the Spanish from reaching their destination.
In 1797 Victory was declared unfit as a warship and was converted to a hospital ship but reconditioned to her former glory after the HMS Impregnable was lost off the coast of Chichester. She left for Portsmouth on 1803 under her new captain Samuel Sutton. Here Vice-Admiral Nelson hoisted his flag on 18 May. Although not ready to sail resulting in Nelson boarding the frigate Amphion, he and Victory were to join forces again on the 31 July.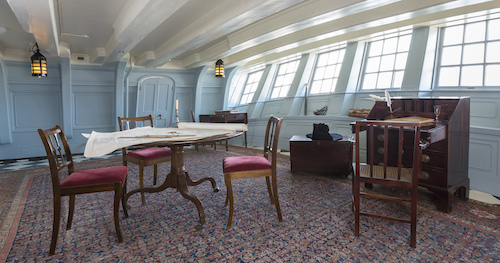 Setting sail for the Mediterranean on the 19 October the British fleet was spotted by the enemy. At 6 am the fleet divided into two columns and approached what became the battle of Trafalgar. At 1.15 pm Nelson was shot and died at 4.30 pm with his last order being to anchor. This was overruled by Vice Admiral Collingwood. Badly damaged, Victory was towed to Gibraltar by HMS Neptune and after many expeditions her active career ended on 7 November 1812.
Seeing life as a Naval School of Telegraphy in 1889 she sadly deteriorated after all education had moved to other locations. Edward VII prevented her from being scrapped and in 1922 on 12 January she was moved into No.2 dock at Portsmouth.
HMS Victory still goes through intensive maintenance and repairs to this day but the sight of her resplendent in her home for the last century is a testament to the admiration and interest we hold, for the oldest naval ship still in commission in the world!
You can climb aboard HMS Victory at Porstmouth Historic Dockyard 
Article: Roy Godley
Photos: Portsmouth Historic Dockyard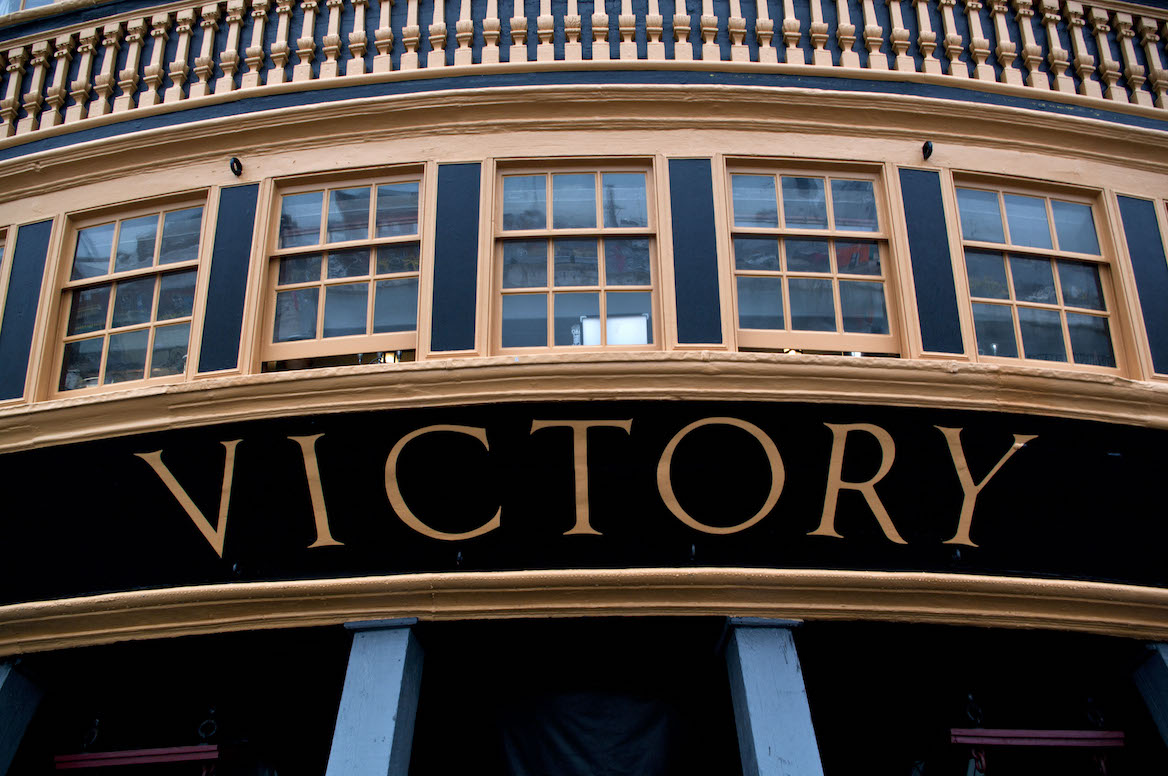 Keep up to date with all our news on Facebook and Twitter