Axopar have relaunched their award-winning, market-leading 37 range at Boot Düsseldorf, bringing improved comfort and driving dynamics. 4 years on from its initial release, this is a boat concept that revolutionised the motorboat market. The second release looks to build even further on this, having adapted to the new demands of the market to create an updated version that is sure to follow on from its predecessors success.  We visited their stand to talk to Steve Handy, brand director of the Axopar London Group, about the new range and why he thinks Axopar has been such a success. 
"The concept was all born around a sports boat, something that's fantastic to drive, really engaging, very competitive, good value for money and really easy to use. [Axopar have] got a really unique product and are very in vogue." 
"They've been working on a replacement 37 for well over 18 months. They saw that competitors had seen what Axopar had brought to the market, and who wanted to emulate some of the features of the product. Axopar wanted to stay ahead of the market so they relaunched it, taking onboard all of the critique that owners had given them. But also thinking about how they could improve it."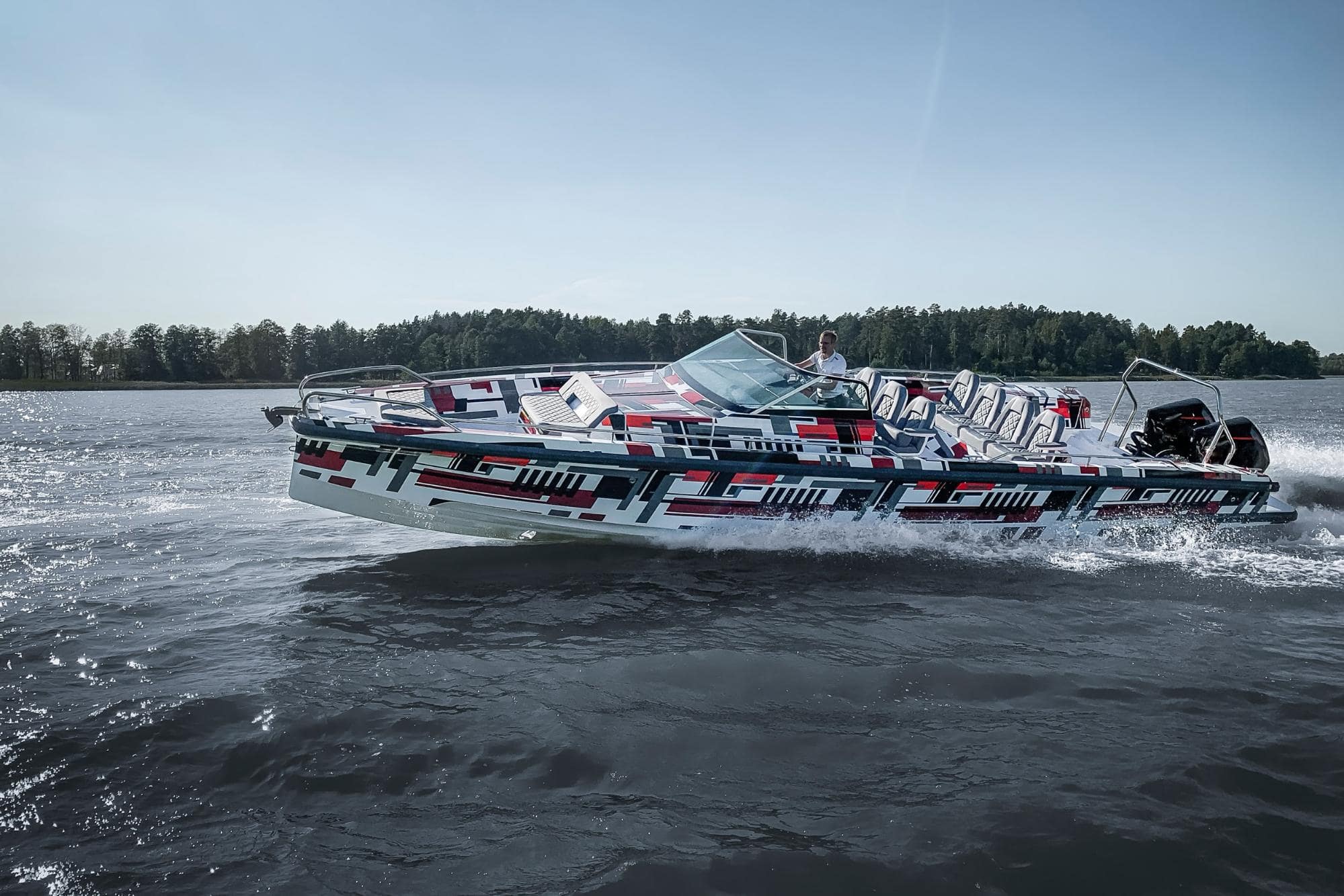 The Technical Specifications
For the new range, the hull has been redesigned for enhanced handling and performance, allowing the driving to feel intuitive even to a new user. Axopar have invested in comprehensive development of its hydro-dynamics, using tests such as CFD simulations and sea trials to ensure the updated hull is their best yet. 
These tests have ensured that the new models are more responsive and safe but without compromising on the thrill and 'sporty driving'. All these benefits are alongside enhanced directional stability, better grip while cornering, reliable handling, faster cruising speeds as well as reduced consumption of fuel. The latest engine technology has led to considerable uplift to 30% better fuel economy within the 20-40 knot range. This means your cruising range is extended by an average of 35% or 75 nautical miles. 
Steve tells us: "They spent lots and lots of time modeling the new hull, using clever computer systems but also naval architects to understand and achieve what they wanted: which is a boat that rides flatter and has less drag, so it's more efficient. This is beneficial for an owner, as they're paying less in fuel but it also to take into account the more powerful engines that their main engine partner Mercury produces."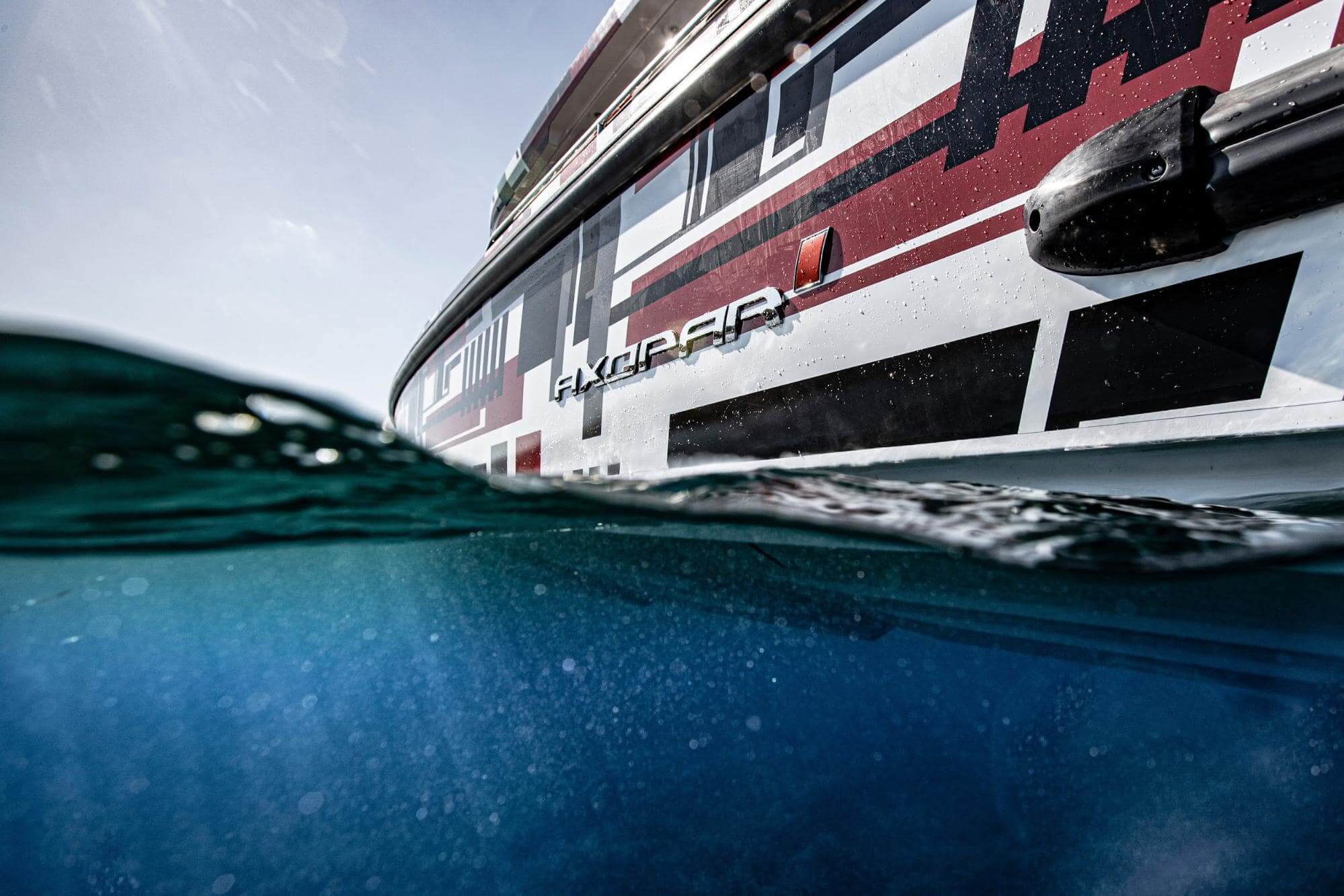 "Mercury have launched a new range of V8 engines, as well as a supercharged version, a petrol Mercury V8 engine with 450 HP. They knew they'd fit those engines on the Brabus versions of the Axopar, and to do that they needed a hull that an owner could be more in control of."
"The spray rails are in a different position, the bow thrust has moved, the positioning of the chines, the shape and the angle of the chines, the height of the gunwale. Every part of the hull is new, the dimensions are the same but somehow they've managed to create more space inside and it really is a better handling boat. And that's just talking about the hull!"
The Axopar 37 range will be equipped with the latest engine tech from Mercury Marine, including their latest Mercury V8 FourStroke 300HP. Steve told us more about how outboard engines have evolved over the years, to get to the point where they're being used for these top of the range models: "The industry and buyers recognise the benefits that come with outboard engines. If you look more than five years ago, at the type of boats that people bought, outboard engines weren't as efficient. They were noisier, they were heavier. From a design perspective, when you put the heaviest part of the boat right at the very back end, it doesn't exactly create a balanced weight performance. If you put an engine inside the middle of the boat, you create a better balance boat and it's insulated so you haven't got as much noise. But as outboard engines have changed over the years, that challenge to create the right balance when the engine is at the back has become less."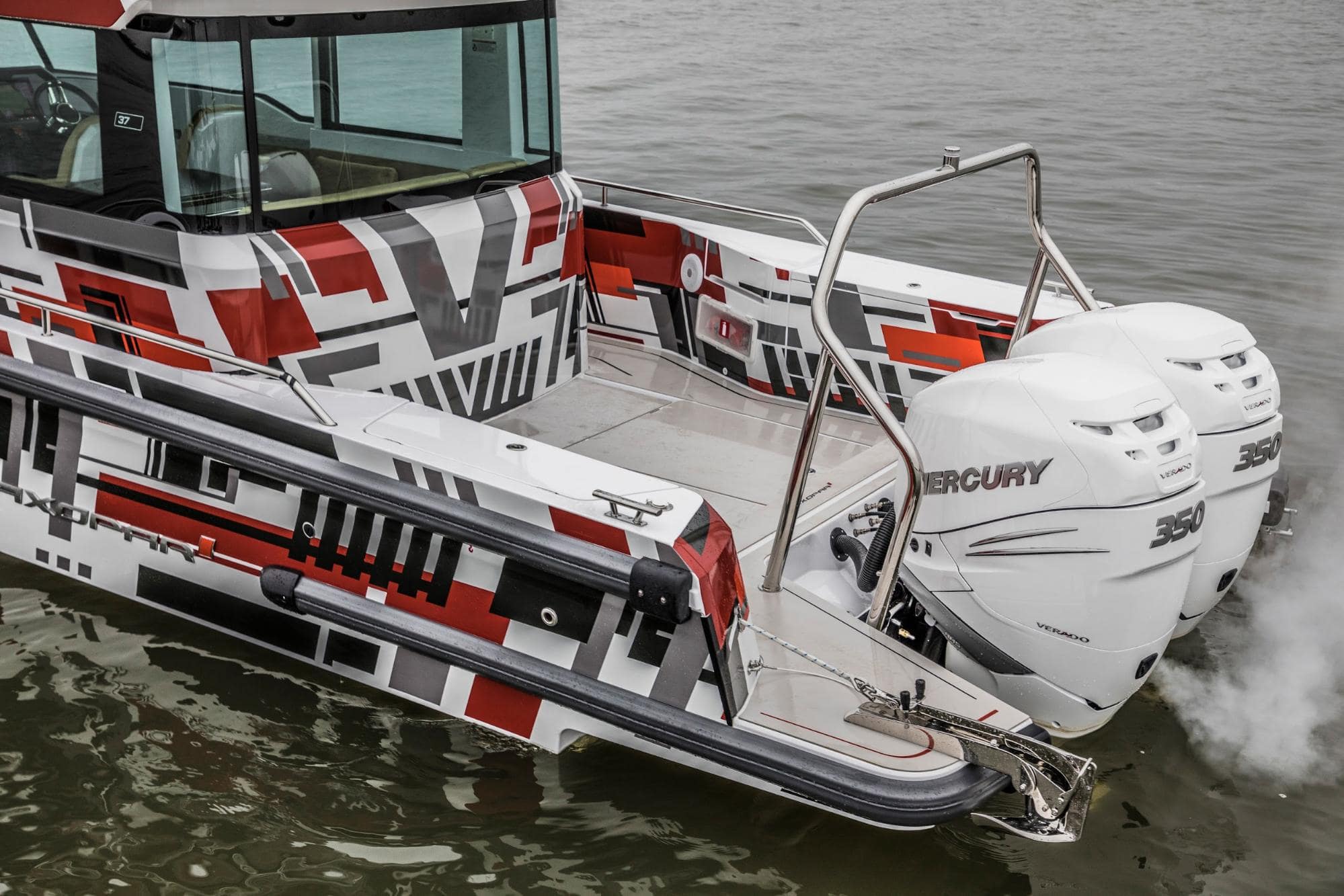 "They have evolved and improved over the years to such an extent where they're much more reliable, efficient, and lighter. The benefit to the client is that it's easier to maintain, you can access the engine, you're not on your hands and knees in an engine room with a lid trying to get into a diesel engine. It's right at the back, it's open, you take the cowling off and you've got access to all of the component parts. It's more practical for an owner and because they're more efficient and lighter, it gives fuel savings in comparison to conventional petrol engines." 
So what else has changed? 
The driver has been the focal point of experience improvements. Axopar wanted to create a boat that is intuitive and practical enough that it suits a seasoned boat owner as well as a beginner. They have redefined the ergonomics to ensure an extremely practical and functional layout, including improvements to forward and all round visibility from the extra grippy seats at the helm and a clean and uncluttered dashboard. These additions allow the skipper to easily stay in control during handling, even when single-handed.
In terms of appearance, Tope designers have worked alongside industry pros to improve the classic Axopar look. Visually the boats have been trimmed, modernised and streamlines to evolve into a distinctive and recognisable design that looks striking but also delivers excellent functionality.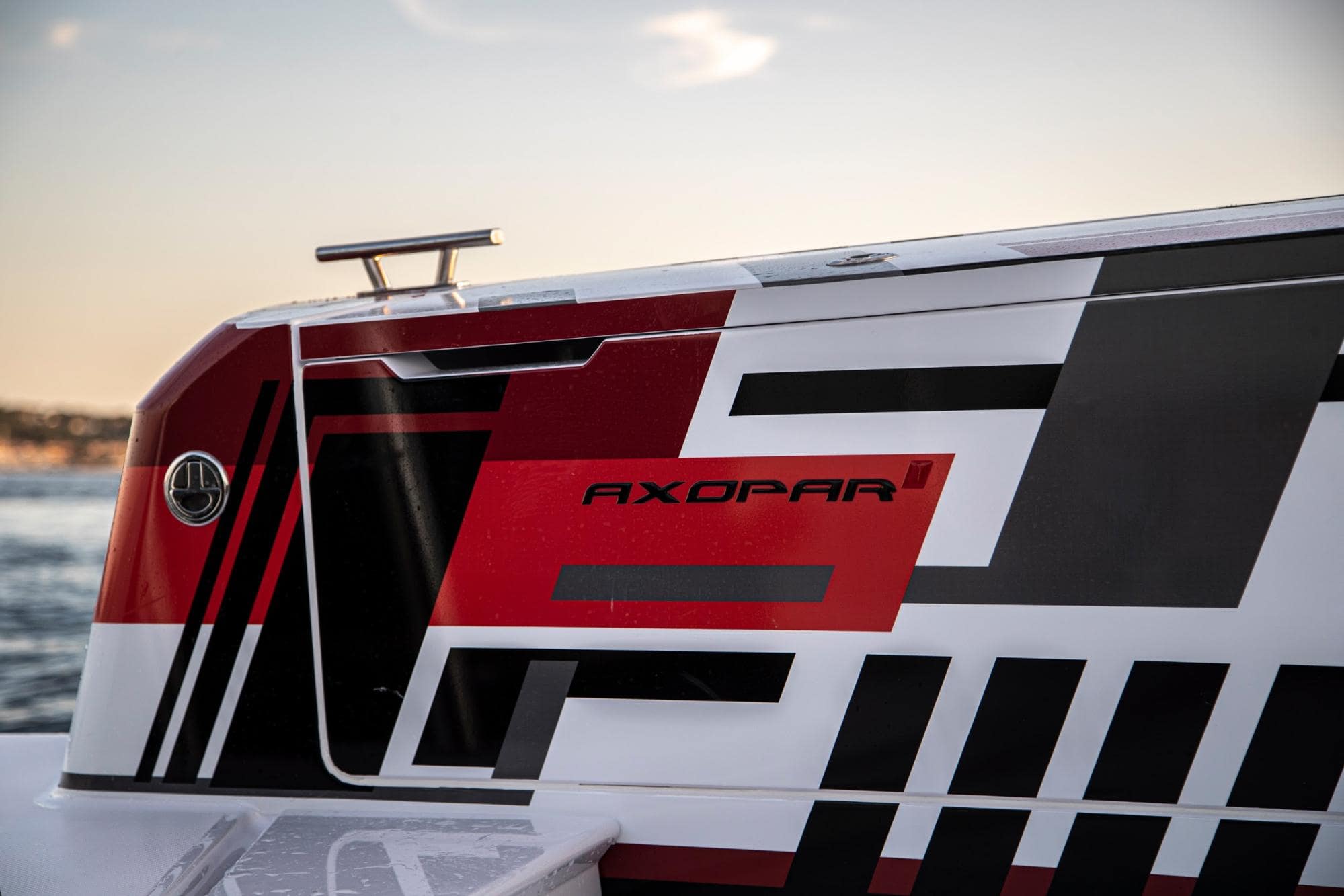 "The concept's evolving into a boat that's for an adventurer - people who don't just want to go boating, but want to put mountain bikes on the top and paddleboards on the side. So that when you stop, you've got a really cool platform but also something where you can enjoy doing everything on the water, it's not just about the boat."
Layout is also a key area of improvement. Axopar have redefined the space available and created an entirely new set up that is considerably more social and practical. The Gullwing Door is a concept created to act as an extension to the front cabin, giving a more 'outdoor' feel to the enclosed cabin. This area has also been significantly increased adding 30% more space than the previous models, providing more room, light and accommodation than before. This range provides an option of a separate enclosed toilet and shower compartments for better privacy, comfort and convenience.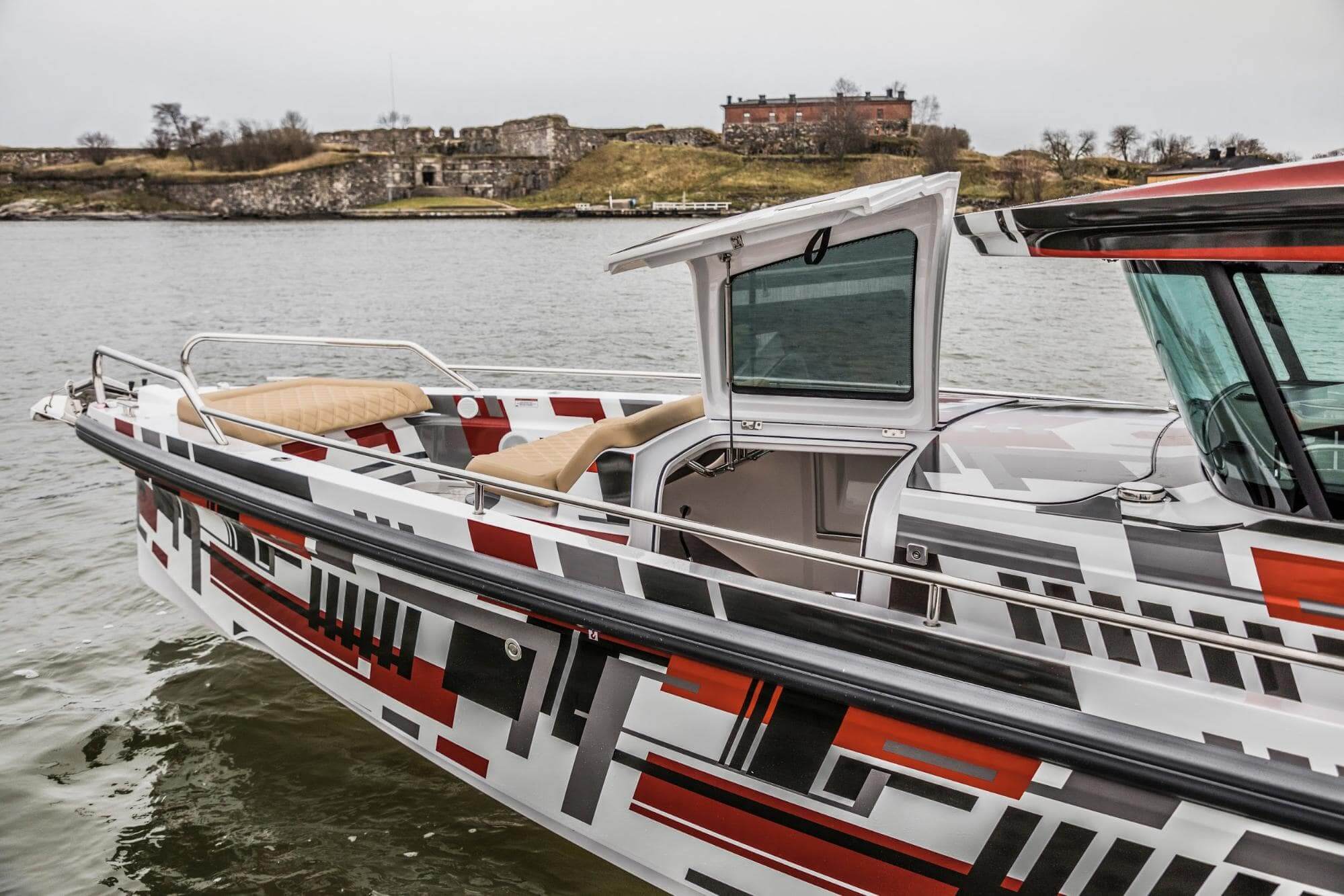 Layout on the deck has been enhanced to make better use of the available space by adding safer passageways, improved ease of movement as well as reduced thresholds. Added improvements also include better multi-store solutions, an enlarged functional foredeck layout, social seating areas and a renewed configuration of the aft-deck. 
The range of models
The Axopar 37 range comes in 3 different variations: the Spyder, the Sun Top and the Cross Cabin. But why has this changed and what are the differences?
"The old 37 had four models, so now they've gone from a 4 model range, to a 3 model range. The Sun top and and T-top were essentially models with a roof, one had an opening section, the other was a fixed fiberglass roof. Then they did two cabin versions, they called one a Sports Cabin and one a Cabin. The sports cabin had a window angled aft, so almost like a car window, they've removed that from the new line up. One of the main reasons was that with this adventure theme, the whole concept of the product lends itself to a cabin where the window is angled forward."
Axopar 37 Spyder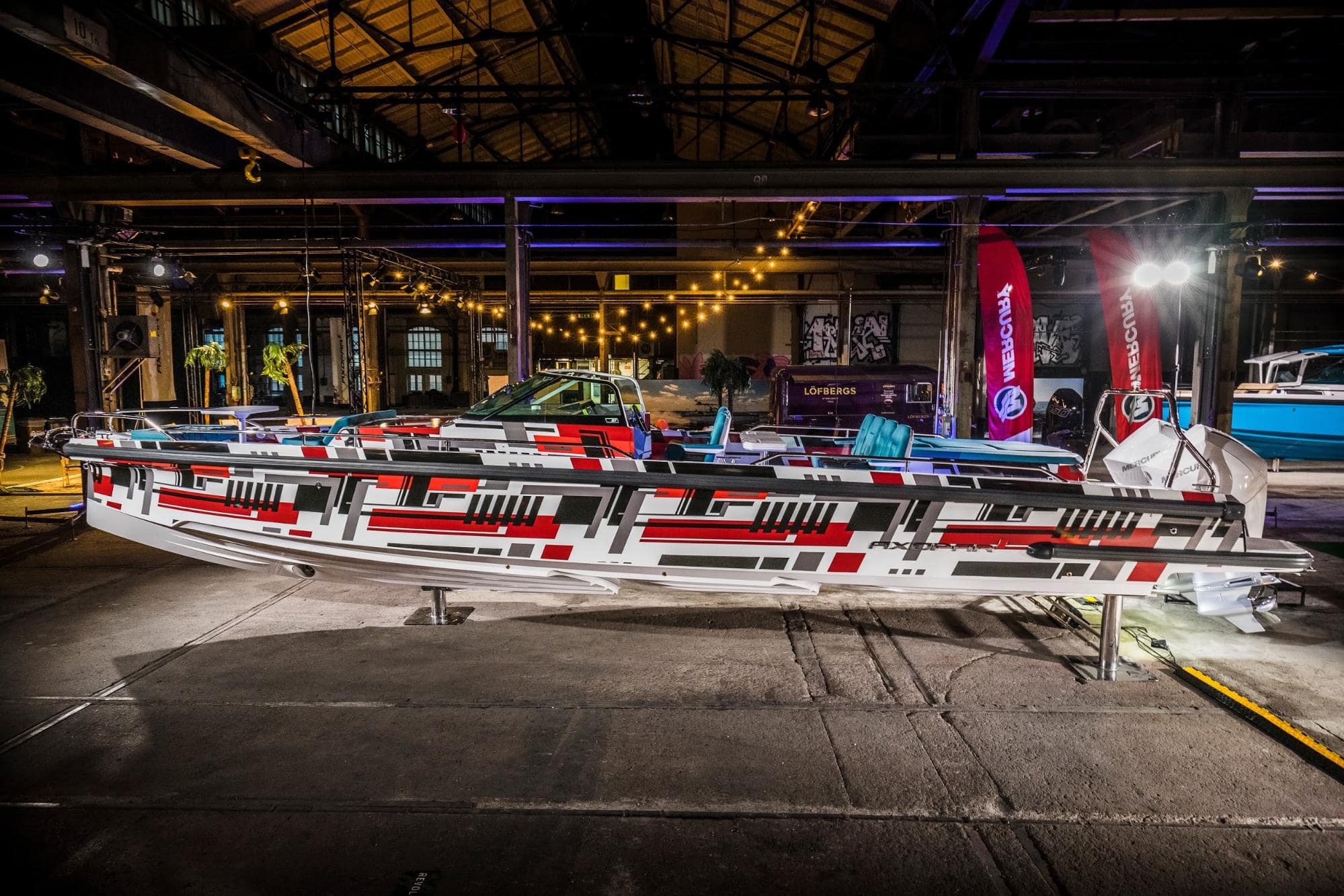 This open speedboat offers the thrills of the sea with fantastic grip, handling and compliance. This is a great model for skippers who are in the market for a vessel to use for diving and watersports or those who simply have a need for speed. 
"The Spyder means you can have an open boat, they didn't use to offer that. No sunroof, so if you really want wind in the hair, real fun sports boat type scenario", then this is the one for you.
Axopar 37 Sun Top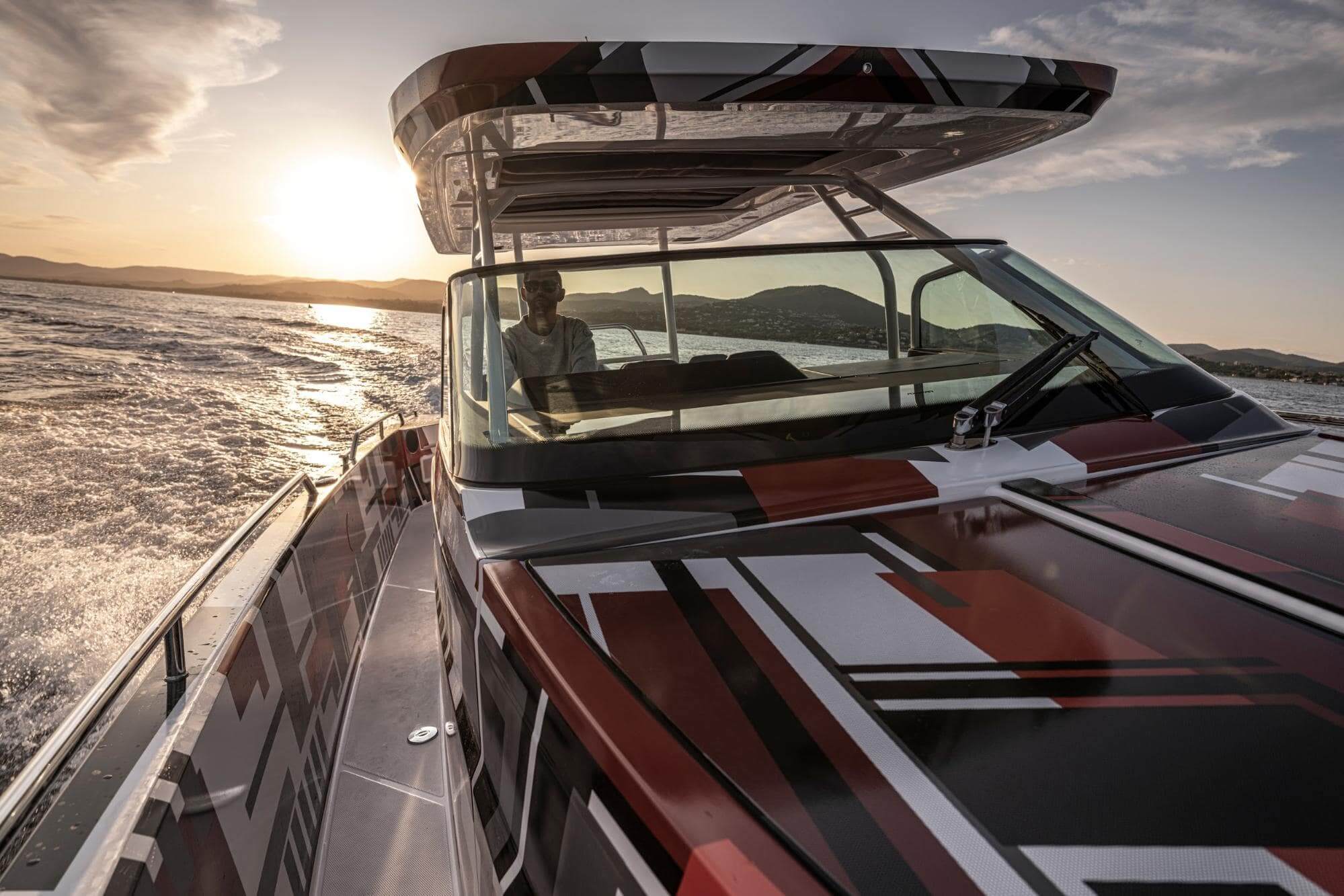 This model is the perfect choice for those looking for a social space: ideal for alfresco dining and enjoying the joys of an open boat while still being protected from the weather. A full length shaded roof offers protection without having to compromise on versatility or space. 
Axopar 37 XC Cross Cabin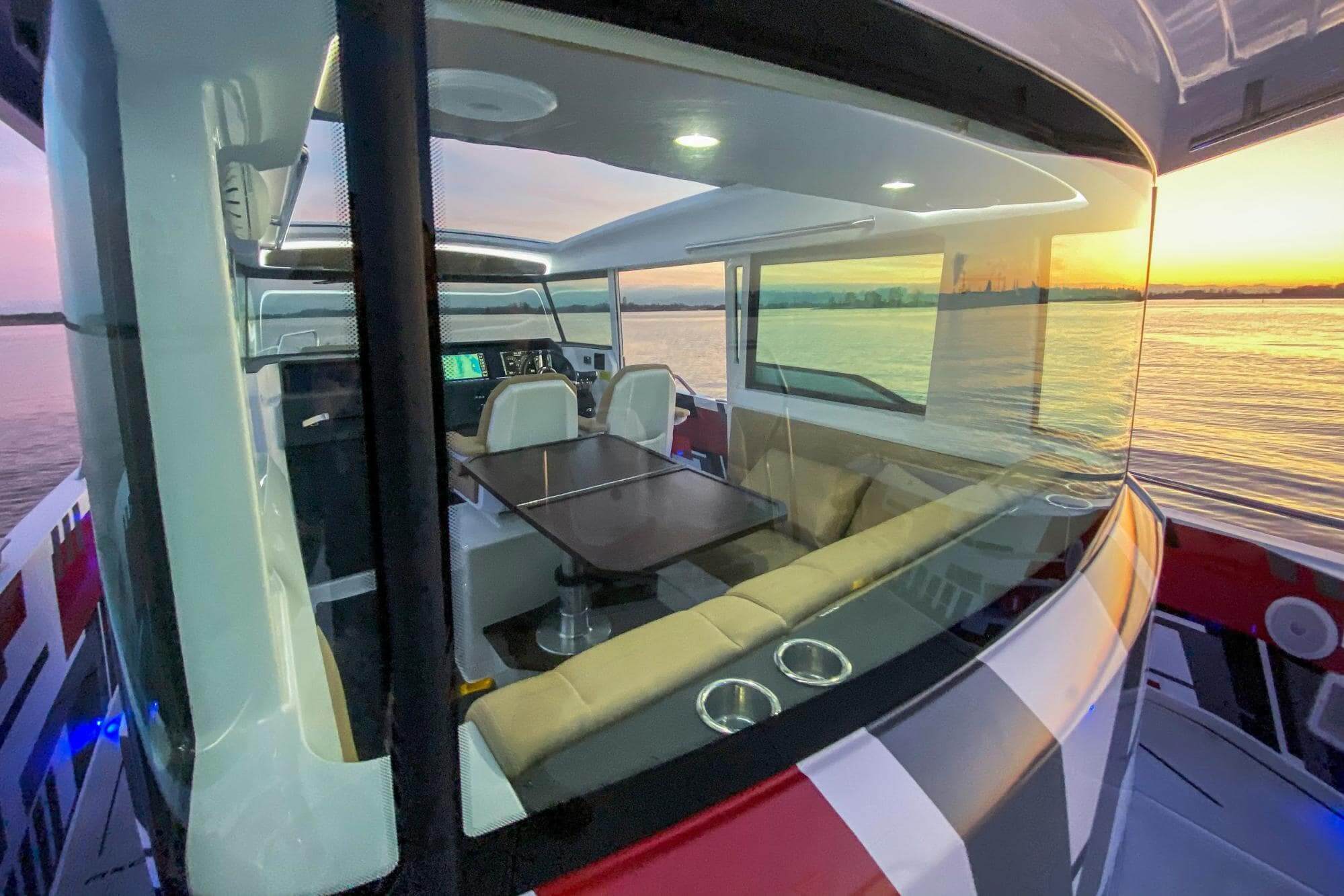 Axopar have described this model as the 'Gran Turismo of the Seas', redefining convention by combining both looks and functionality for a new age of all weather boating. The XC allows you to have much safer, more comfortable voyages even in uncertain weather thanks to it's fully enclosable cabin with twin sliding doors and roof. 
"The actual height of the glass in the new CrossCabin version is shallower, so there's not as much glass. There's no stainless steel handrails on the roof because they've created a sort of a tunnel in the roof edges, so you've got to grab handle, but you can't see it. So aesthetically, again, you've got a lower look in the profile. If you see that in comparison to the old Cabin or the other Sports Cabin, it's just got a completely different look."
A message to RIB owners
Steve was keen to get across how universal he thinks the Axopar models are and how he thinks people who would usually go for a RIB should consider one: "I think a lot of people think that getting on the water on a boat of that size needs tubes for safety. An Axopar is equally as safe as a RIB: it's as much fun, it has rubber fendering around the hull and on the new 37, there's also rubber fendering on the transom. So for those people that may be not that savvy at mooring or worry about bumping into things, you've got the protection on an Axopar, just like you have on a RIB."
Equally, "lots of RIB owners want to put theirs on a dry stack because they're light and small enough that they can get forklifted up onto a dry stack facility rather than leaving in the water. But you can do the same with an Axopar, so for those rib owners out there who were thinking about a new RIB, please come and talk to us, look at an Axopar."
The growth of Axopar
We asked Steve more about Axopar as a brand, and how they've grown to become one of the fastest growing marine brands in Europe: "It's really exciting, it's a new brand, it was co-founded by several guys, the headline guy is called Jan-Erik Viitala, a Finnish guy with many years experience in the boating industry. They launched the product in 2014, they've gone from not being around 7 years ago, to their target of producing 1000 boats [this] year."
"The [original] 37 was a very successful product for them", Steve says, "You can see if you spend time with the management team and all of their employees, they just have this electric energy. They're mostly young guys who are really passionate about bringing something to the market that owners actually want."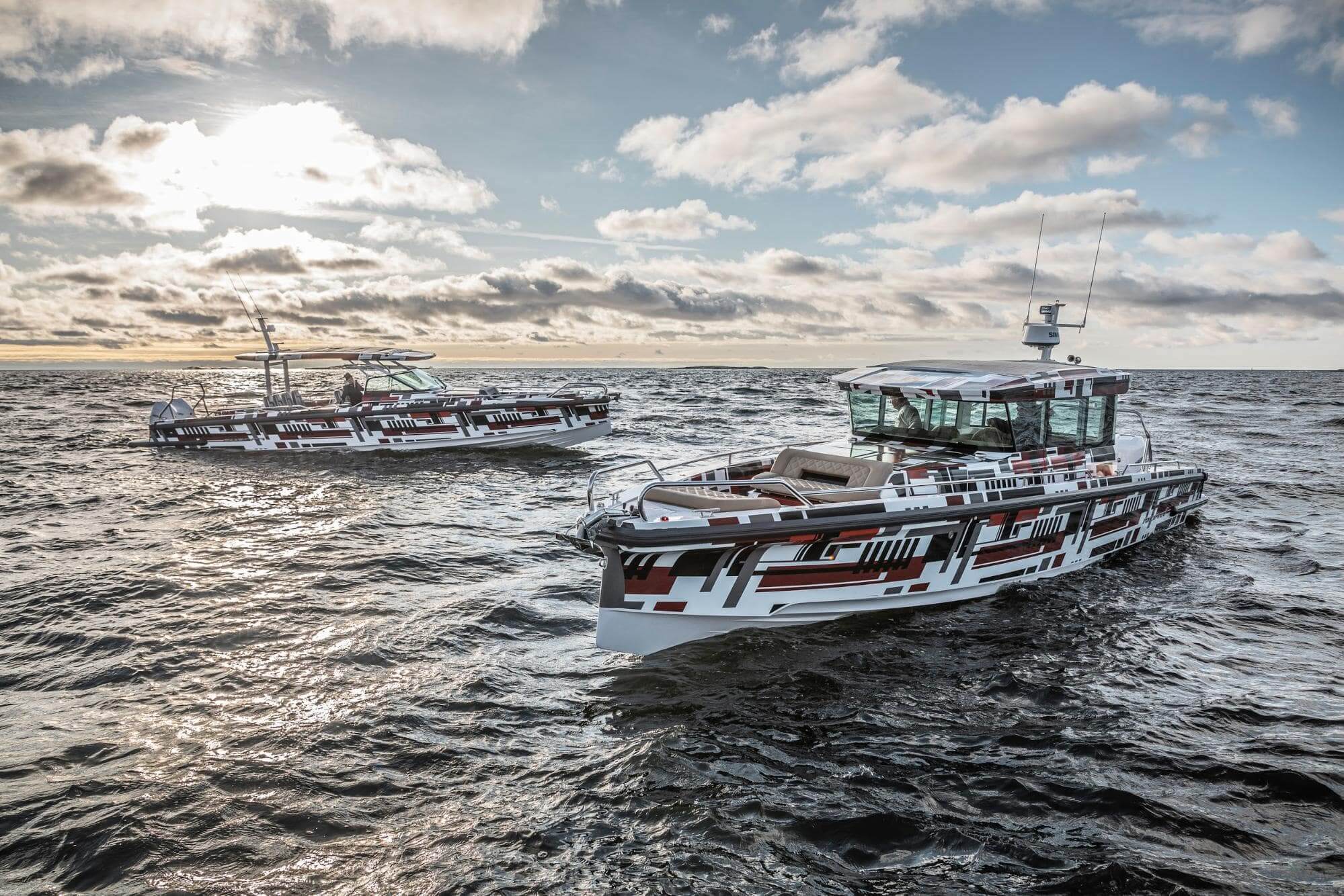 "They bought a new product to the market, which they've launched here at Düsseldorf and it's already selling incredibly well - lots of people have ordered them from drawings, pictures, and renderings. They haven't even been on the water in them. They haven't physically seen them or touched them, but they were so confident that they ordered them - it's amazing!"
Axopar Buying Advice
Steve's advice to anyone looking to buy an Axopar this year is: "Get in early! I know it sounds crazy, but we're almost at the end of January, in the blink of an eye, it'll be the season. We have a lot of clients who react late to boating and it's too late because if they want to buy a new boat, specifically an in demand Axopar, dealers will have committed to certain numbers of boats. Because they sell and they sell fast, dealers sell out."
The key is to start "thinking about it now, not in June when the sun is shining and you want to get on the water."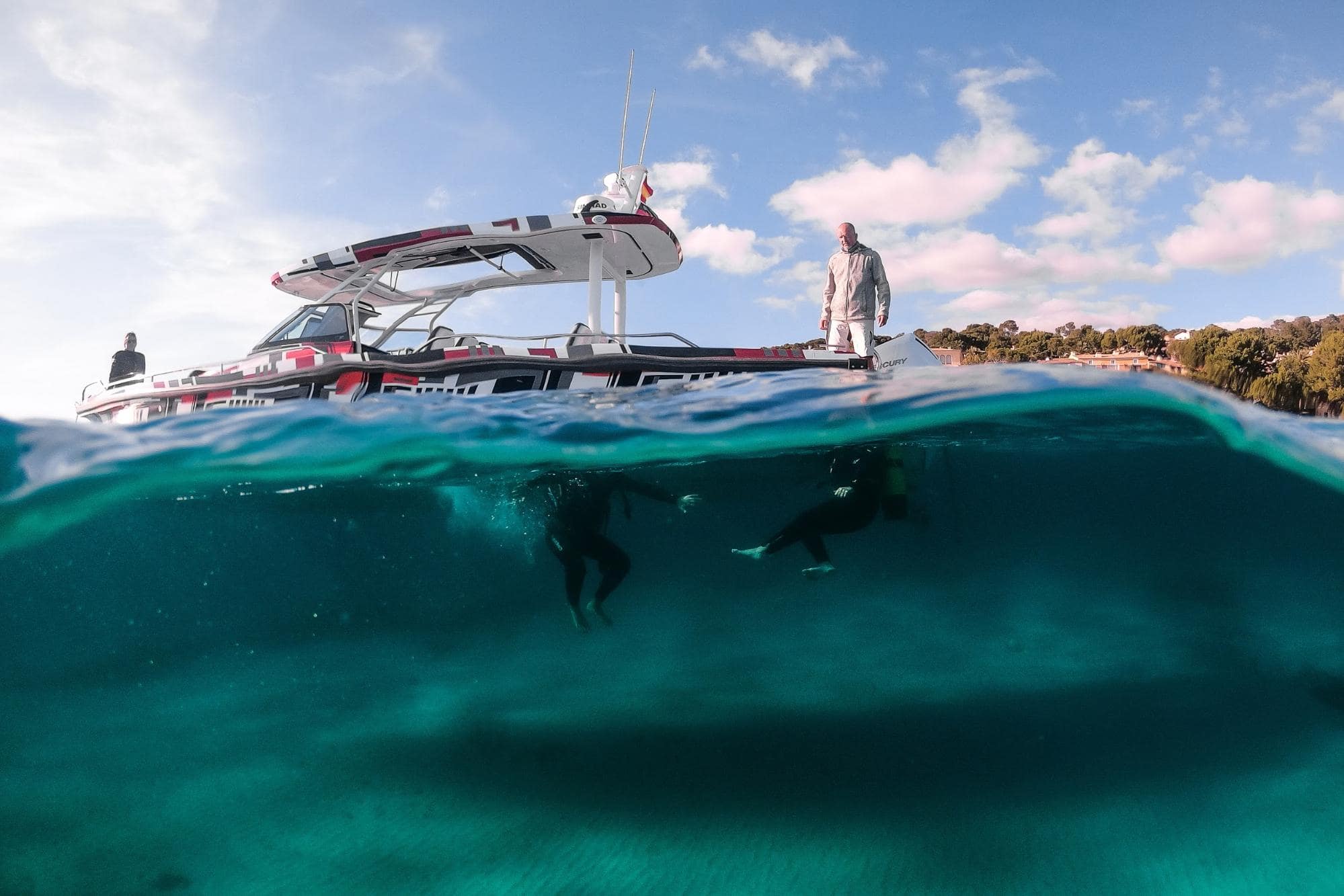 "Axopar is a production boat. So the factory have scheduled production for a year, they know exactly how many boats they're going to build. With the Axopar 37,  they produce roughly three boats every week and those boats are all committed to by their international dealer network."
"So, not all dealers will carry stock and forward commit. If you're unfortunate enough to be boating in a location where it's one of those dealers and the factory haven't got any allocation left, then you won't get a boat."
"But, if it's a business like ours, we've pre-sold a number of boats, more than 15 boats for this year already. We'll have a build slot, I may have one Axopar available that's currently unspecified. So you could choose whatever you want and we could deliver it to you in June, but that position could change tomorrow."
"If I have a customer buy one before you [and take that build slot], I then can't deliver yours to you until July. So the key message, I guess for me to an owner thinking about buying, is if you're thinking about getting into boating this year, talk to us now. Start considering your purchase now and not right before you want to do it."
The Axopar and Brabus Marine London Group
Steve was enthusiastic to tell us a little more about why the Axopar and Brabus Marine London Group are proud to sell the new range:  "We wanted a product to offer to our client base and prospect base. So people that come into our offices and, and want to get on the water, but they don't want to spend a million pounds. It's good for us to have that product to be able to capture those customers and sell them something and keep them in our family because we have the infrastructure."
"We have 40 offices throughout Europe and engineering teams throughout Europe. We're very unique as a business in that there is no conflict for a client who's going to cruise in different boating areas throughout Europe.The main boating industry works in the fact that you have a manufacturer, they appoint independent dealers to sell their products, in Montenegro, in France and in Italy, and they're always different companies." This means that "the service level you might get as a client when you move your boat is different because you've got different companies and therefore it's inconsistent."
"We have one group, more than 200 employees working across 40 sites throughout Europe. Pretty much the whole of Europe, with the exception of Scandinavia, and we can deliver a consistent service. We call ourselves a family so we provide a consistent service to all of our clients throughout all of our territories."
Speaking of the Group, Steve says: "We've done really well in our first year. We've sold more than 30 boats and are predicted growth in years two and three. As long as the boating market continues to stay strong, then we think we'll sell lots more [Axopar] boats because people love them. And our sales team embrace them."